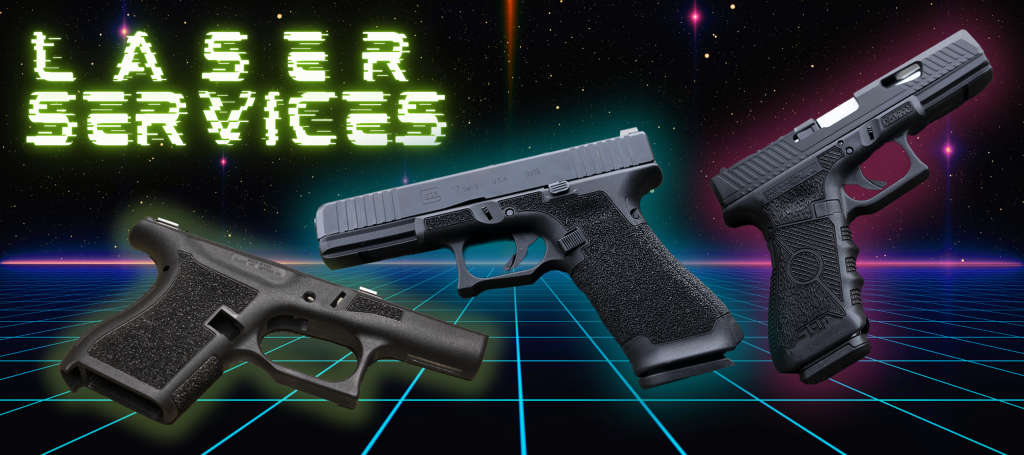 We have an industry leading pricing structure as well as fast turn around times! Our Laser Services division offers a large selection of patterns and textures to improve the grip control and apperance of your the firearm. Laser Stippling allows precision detail with performance driven aesthetic improvements. Muscle memory, index points and increased traction all lead to better perfomance in any weather conditions.
Get AimSurplus custom Laser Work in 4 easy steps.
Pick the services you want from our Laser Services Products page and checkout.

Send us your frame

Once we receive your frame we will quickly get to work.

We return the frame back to you directly.
It's that simple. Keep scrolling for detailed instructions.
Laser Service Options
Custom Deluxe Package- Includes Frame Work and Laser Service for Glock Firearms
This is a one stop shop for all the modifications we offer. This includes your choice of Grip Panels, Texture, Logo, Index Cut, Front and Backstrap Stipple, Choice of Undercut and Texture on the frame. You'll get all these modifications at a discounted rate for bundling them together.
Laser Engraved Side Panel for Glock Frames
This can be purchased as a stand alone modification. This option gives you multiple side panel shapes and textures to choose from to give your Glock personalized style and some added function all at once.
Under Cut Only Frame Service
The single undercut service is probably the number one upgrade for a Glock frame. The undercut allows your firing hand to get higher up on the frame and get rid of the notorious "Glock Knuckle" that most people get when shooting Glocks.
The double undercut is the perfect addition to any Glock frame. It includes the Single Undercut to help get your firing hand higher on the frame, and then follows with a contoured trigger guard cut that gives you a repeatable and reliable index for your support hand to reference each time.
Shipping Your Frame To Us
Current turn around time is under 1 week. What that means is that we will laser engrave and send back your completed frame within 1 week from receiving it. Once you have selected and paid for all your laser grip options, send your frame in with your Order Number and a copy of your Drivers License/ID. We will only return ship to the address on the identification. We prefer if you just send the frame, as we will not be responsible for anything extra that ships with it. Rest assured, your frame will only be worked on by certified Glock Armorers, and will be in good hands. If you order other items or parts at the same time, they will ship with the frame when it is complete. Local customers can drop off their frame at our AimSurplus Showroom in Monroe.
*Please ship to:
AimSurplus Laser Division
225 American Way
Monroe, OH 45050
*Firearms must be shipped UPS Next Day or FedEx Overnight services.
If you have any questions, or would like other parts you ordered installed by our certified Glock Armorers while we have it for lasering, please email [email protected]. Please make sure to include your Order Number in the subject line.